New For 2000 Lamborghini Presents The Diablo 6.0
Click on the thumbnail to view the full size image (45-90K each). These images are from official Lamborghini Factory Press Releases for the 2000 Diablo 6.0 model. To simplify navigation the full image will open in a new browser window. Close that window after you are finished viewing the image and choose another.
The new Diablo 6.0 of the third millennium is a substantial leap forward, compared to the MY 99, presenting many technological improvements such as:
· body mainly in carbon fibre
· new 6 litre engine
· wider front and rear tracks
· improved exhaust system
· new 32 bit microprocessor for the engine management system
· upgraded chassis
· completely redesigned interior
· new air conditioning system
The Diablo 6.0 sets a new benchmark for the high performance sports cars. The only comparison can be made to the Diablo MY 99 with an increase of the engine capacity of 285 cc, to 5,992 cc, delivering 20 hp more, reaching then a maximum power of 550 hp. The torque is even better with 620 Nm at 5,500 rpm instead of 605 Nm compared to last year model. In line with the Lamborghini tradition many technical improvements have been made to the engine management system, to the chassis, to the suspensions and to the exhaust system.
Also in line with the tradition is the body design of the car which has been modified in the front with a new bumper and spoiler, and wider fenders to house the wider front and rear tracks.
The entire body is now built in carbon fibre except the doors which for safety reasons are in aluminium and the roof which is made out of steel, as it is a structural part of the chassis.
The chassis has been reinforced with carbon fibre inserts increasing the torsional rigidity of the structure.
The new 6 litre V12 engine gives an output of 550 hp (405 kW) at 7100 rpm with a maximum torque of 620 Nm at 5500 rpm.
It is equipped with a variable intake valve timing system (derived from the well proven one already used in the Diablo MY 98 and MY 99) in order to guarantee good charge efficiency and good torque not only at high r.p.m. but also at low speed.
The new 6 litre V12 engine is equipped with titanium connecting rods and a lighter crankshaft to improve performance.
The exhaust system has been redesigned to reduce the back pressure and integrates the Lamborghini ENCS system for noise control.
Engine Management System
In order to guarantee not only high performance but also a good driveability at low speed, whilst maintaining emission requirements, a new version of the Lamborghini Engine Management System LIE has been designed, with a more powerful hardware (state of the art 32 bit microprocessor) and a very sophisticated software.
The ignition now features individual coils directly fitted on to the spark plugs; fuel injection is sequential multipoint, as in Lamborghini tradition.
Lamborghini Data Acquisition System (LDAS) and diagnostic functions are integrated in the system.
Exhaust noise control system (ENCS)
It is a further development of the already existing system in the Diablo MY99 and Diablo GT.
A special design of the exhaust pipes, together with a variable geometry system based on the actuation of two valves (controlled by the Engine Management System), allows control of the exhaust noise level both at low and high engine speeds, with no loss of performance:
- at low/medium speeds: throttles closed, each part of the pipe included between the throttle and the "1 in 2" or the "2 in 1" junction acts as a noise filter (for each bank two resonance tubes with closed end "in parallel" are created) at medium frequencies
-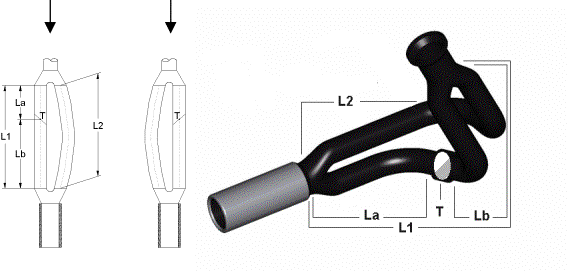 at high speeds: throttles opened, the length difference of the pipes between the junctions acts as a noise filter due to the "interference effect" at high frequencies.
Legend
L1 first exhaust terminal length exhaust terminal length
L2

second exhaust terminal length
La first "in parallel resonator" length

Lb second "in parallel resonator" length

T throttle for variable geometry actuation, controlled by the electronic engine management system

Transmission

4WD transmission based on the well proven "VT" (Viscous Traction) system. The gearbox control lever is in the central tunnel but in an asymmetric position in order to be closer to the steering wheel and guarantee betterergonomics.

Chassis, suspension

The Diablo 6.0 now features a wider front track (+60mm) with modified suspension, electronically improved controlled dampers and higher rigidity chassis. The rear track too has been slightly increased. The result is a top level handling , with a substantial improvement of the car dynamics while achieving a better suspension comfort.

The clutch, brake and gas pedals have also been improved with more foot space for comfort and driveability. New lightweight magnesium alloy wheels have been adopted.

Brakes

The braking system, as well as the ABS system, is derived from the well proven high performance system of the Diablo MY 98-99.

The discs are of large diameter and self ventilated (335mm front, 335mm rear) with high performance calipers and latest generation ABS system with upgraded calibration.

Body

The Lamborghini Diablo 6.0 features both new technology and new design.

Based on the high level know-how reached by Lamborghini's composite material department, most of the body parts are now made of carbon fibre except for the roof and the doors. The new-design front bumper integrates air intakes for the brakes, as well as new head lamps. New design front and rear fenders match the wider track and the improved water radiator air intakes. A rear spoiler is available, as an optional, for high level sports driving.

Interior

Newly designed interior incorporating carbon fibre technology. All the components such as seats, steering wheel, dashboard, central tunnel, switch panels, door panels, aim at combining a sports style with elegance and comfort. The driver's seat has been moved toward the central axis of the car to guarantee a better driving position. The seats can be longitudinally adjusted on a wider range. The instrument panel as well as the instruments themselves have been redesigned for better visibility and the new panel is in carbon fibre.

The whole interior is lined in leather and the components in carbon fibre and aluminum contribute to the sports style of the cockpit. Airbags for driver and passenger are standard. The windshield-wiper has been redesigned for improved visibility at high speed.

Air conditioning

A completely new climate control system has been installed, allowing the best comfort even in extreme conditions. The air conditioning is fully integrated and, to get the best comfort, the driver has just to set the desired temperature level that will be maintained regardless of external conditions.

Lamborghini Diablo 6.0

Specifications

DIMENSIONS

Overall length 4470 mm

Overall width 2040 mm

Overall width (rear mirrors included) 2200 mm

Overall height 1105 mm

Track: front 1610 mm

rear 1670 mm

Wheelbase 2650 mm

Weight ("dry") 1625 kg

Weight distribution % : front 41 %

rear 59 %

ENGINE
Main characteristics
Number of cylinders 12 V 60°
Cycle-stroke Otto-4
Bore on stroke 87x84 mm
Engine capacity 5992 cc
Compression ratio 10,7:1±0.2
Max power 550 bhp (405 kW) at 7100 rpm
Max torque 620 Nm at 5500 rpm
Crankshaft bearings 7
Cylinder head aluminum alloy + magnesium
Crankcase aluminum alloy
Intake manifold magnesium
Distribution
DOHC, 4 valves per cylinder
Intake variable valve timing, electronically controlled
Lubrication
Pump gear type
Oil filter full-flow cartridge
Cooling system
Type pressurized water cooling (1.2 bar), thermostatic
valve, with 2 radiators "in parallel", electric fans.
· ENGINE MANAGEMENT SYSTEM
Lamborghini Electronic Engine Management System LIE
Type speed density
Fuel injection sequential multipoint
Ignition static ignition, with individual coils
· TRANSMISSION 4WD (viscous traction)
Transmission ratios
Gearbox
1st 2.31: 1
2nd 1.52: 1
3rd 1.12: 1
4th 0.88: 1
5th (optional 0.694: 1) 0.68: 1
reverse 2.125: 1
Front differential 2.812: 1
Rear differential 2.410: 1
Transfercase to rear (optional 1.667: 1) 1.619: 1
Clutch dry single plate
Diameter of clutch disc 272 mm
Wheels front rear
8.5"x18" 13"x18"
Tires 235/35ZR18 335/30ZR18
· CHASSIS Tubular steel with carbon fiber components
· BRAKES
Double hydraulic circuit, four self-ventilated discs with Lucas Varity ABS system
Front
Disc diameter 355 mm
Calipers pistons 2 Ø 40 mm + 2 Ø 44 mm
Rear
Disc diameter 335 mm
Calipers pistons 2 Ø 38 mm + 2 Ø 44 mm
Handbrake mechanical on the rear wheels
· SUSPENSIONS
Front
Independent wishbones, coil springs, anti - roll bar, telescopic dampers, electronically controlled shock absorbers
Rear
Independent wishbones, coil springs, anti - roll bar, telescopic dampers, electronically controlled shock absorbers
· STEERING
Power steering
· ELECTRICAL EQUIPMENT
Voltage 12 V
Alternator 14 V; 115 A
Battery 12 V; 90 Ah
· CAPACITIES
Fuel tank 100 lt.
Cooling circuit 15 lt.
Engine oil (total capacity, rad. filter and oil ducts) 13 lt.
· PERFORMANCE
Max speed Over 200 mph (330 km/h)
Acceleration 0-62 mph (0-100 km/h) 3.95 sec.
---