LAMBORGHINI CLUB AMERICA
Presents
The 2002 Monterey Laguna Seca California Meet
AUGUST 15, 16, 17 & 18 2002
Brendt Heiden , in charge of Automobile Lamborghini in America, will be our guest speaker Saturday might and will give us a run down of the future of Lamborghini and, hopefully, news on the new small car.
WEDNESDAY, AUGUST 14th
Club members will be staying at the same 3 hotels as last year all in Monterey. If you do not already have reservations or know where we usually stay then contact the Heady's for additional information ASAP! YOU MUST BE REGISTERED FOR THE MEET AND A CLUB MEMBER TO BOOK ONE OF THESE ROOMS. There will be an early bird, casual get-together at Tarpy's Road House in Monterey for our annual wine testing and game dinner.
THURSDAY, AUGUST 15th
Lamborghini Welcome Back Dinner — A casual affair at the Laguna Seca Golf Club, a time to see old friends and to make new Lamborghini friends.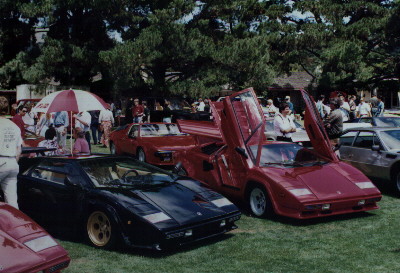 FRIDAY, AUGUST 16th
The Annual Concorso Italiano — If you attended the show before, you know how beautiful the cars looked. This show has grown to be the finest and largest display of Italian marques in the world. Don't miss it, it is a sight to behold. There are food and beverages for purchase on the Concorso green and the Quail Lodge restaurant will also be available for lunch. Within the Concorso Italiano, LAMBORGHINI CLUB AMERICA has its own concours and judging, in addition to participating in the Concorso Italiano judging. Go to www.concorso.com or call 425-688-1903 or fax 425-646-5458 (Concorso Italiano) to order spectator ticket and to register your Lamborghini for the Concorso. Car Exhibitor's fees and advanced spectator's tickets are $50 each through June 30. Spectator's tickets are $60 at the gate.
YOU MUST REGISTER IN ADVANCE TO SHOW YOUR LAMBO AT THE CONCORSO ITALIANO! REGISTER ON LINE AT www.concorso.com OR CALL 425-688-1903
We want all Lamborghinis to be in the Concorso. This is a fun concours, so don't be squeamish if your car is not perfect – the idea of the show is for everyone to enjoy all the makes and models. Club member Scott Reiner is available again this year to detail your car, with an advanced appointment Scott is accepting car detailing appointments now so call him at (520) 977-7099 or go to his web site autounltd.com.
If you are not going to the Concorso Italiano, Jack Riddell is putting together and informal picnic at a park near our headquarters hotel in Monterey. E-mail Jack for additional information.
FRIDAY NIGHT, AUGUST 16TH
The Quail Lodge Golf Club dinning room, overlooking the Concorso green, is the site for refreshments, socializing and dinner after a great day at the Concorso Italiano. We will gather for an informal get-together and Italian buffet dinner Friday night, starting at 6:30. For those members showing your cars, you can stay at the Concorso, leave your car on the green or in the parking lot, and come directly to this event, located adjacent to the Concorso. If you are going to the auction, please come by after the auction and have a drink with the group. At the end of dinner will be showing videos of Lamborghini events, factory events, etc.
SATURDAY AUGUST 17th

Laguna Seca Historic Races — Tickets can be purchased at the gate or check Laguna Seca's web site for additional information. Those attending will caravan through the back entrance to the track, leaving the Mariposa at about 8:00 AM. Meet at the breakfast room at around 7:00.
Saturday Night Awards Dinner - A gala evening featuring the announcement of the Lamborghini Concours winners. If you show your car on Friday, you must be present to win an award.
Brendt Heiden , in charge of Automobile Lamborghini in America, will be our guest speaker Saturday might and will give us a run down of the future of Lamborghini and, hopefully, news on the new small car.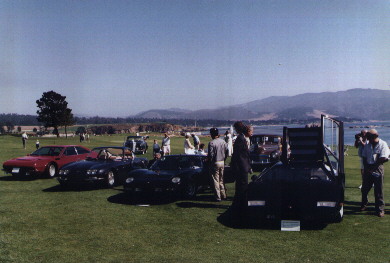 SUNDAY - AUGUST 18th
Pebble Beach Brunch and Concours - This is considered by many to be the premier of all Concours events. Note: The Pebble Beach Concours de'Elegance tickets will be $100 per person this year & NOT available on site. You must pre-purchase your tickets at the link above or Phone # 877-693-0009!!!!
Annual Sunday Brunch — As in previous years, we will be dining at the Poppy Hills Country Club, a lovely golf complex on the 17 Mile Drive. We will have vans to transport us to the concours and take us back to Poppy Hills in comfort At Pebble Beach, it is next to impossible to find safe parking (or not end up on the dirt). At Poppy Hills, you park in a paved area in protected parking spaces.
Sunday Night "Good Bye" Dinner — For those who have not left for home, we will have a wine and game dinner again this year at Tarpy's Road House. This is a great way to end this spectacular weekend. For wine lovers, we bring some great vintages to sample with dinner. Join us if you can!
The Meet Registration forms will be mailed to members during the first week of June, but registration for the Friday Concorso is separate – see above. Don't wait or you will pay more for the Friday Concorso admission.
See you in Monterey!
Jim and Joan Heady
925-253-9399 day
925-254-2107 evenings
FAX: 925-253-9397
e-mail: heady@lamborghiniclub.com
NOTE: You must be registered in advance for the Lamborghini Club America National Monterey Meet if you want to attend the Club Meet dinners, brunch or you want your Lambo to be considered for a Lamborghini Club America award.
COMPLETE SCHEDULE OF EVENTS AS OF MAY 28TH 2002
THE MEET SIGNUP FORMS WILL BE MAILED TO CLUB MEMBERS IN LATE MAY OR EARLY JUNE. IF YOU DO NOT RECEIVE ONE BY JUNE 20TH CONTACT JIM HEADY IMMEDIATELY!
---